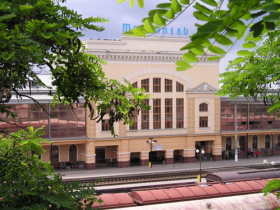 The University is conveniently located in the heart of Ternopil, in Western the west of Ukraine. It is easily accessible by road and rail. The main University campus is situated close to Ternopil Railway Station and within a short walk of the town centre. There are regular bus services from the main campus.
By rail 
Ternopil Railway Station is within walking distance. The station has direct lines to most parts of Ukraine and many local services. Some regional and national services arrive at the station. Please check your timetable to ensure you know which station you are arriving at. Ternopil Railway Station has left-luggage facilities available. Subsidised or concession travel is available to students.
By bus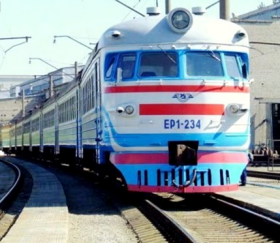 Ternopil's buses are a quick, convenient and cheap way to travel around the town. The Ternopil bus network has seen many improvements in recent years with new buses, more frequent services and improved accessibility. If you're not familiar with the routes, check any bus-stop information board. There is a flat fare throughout the bus network.
You catch a bus by standing at a bus stop (this is usually a pole in the ground with a small sign at the top saying "bus stop" – often they have shelters next to them). On the front of a bus is a number – this tells you what journey the bus will take and where it will stop. You can pay for bus fares using: a smartphone and Apple Pay / Google Pay installed on it, a bank card with the Pay Pass contactless payment function, an electronic ticket "Social Card of Ternopil Resident" or an e-multi journey ticket. Keep hold of your ticket in case an inspector wishes to see it. As the bus approaches the stop, the on-board system announces the bus stop name.
Because of our central Ternopil location many bus routes pass close to the University campus. Buses operate a regular service to the campus. They run approximately every ten minutes during the day. The earliest service is at approximately 6 am and the last bus is just before midnight. At weekends there is a reduced service.
The best way to plan your journeys by public transport is by using Ternopil Transport found at: http://detransport.com.ua/
By coach
Coach services operate from Ternopil coach station, which is a short taxi ride or 20 minutes' walk from the campus. Most routes require you to buy tickets before you board. Coaches often stop on request only: so you'll need to indicate your stop clearly to the driver when boarding or alighting.
Coach services criss-cross Ukraine with connections to Europe too. However, coach journey times tend to be longer than the equivalent train service. Coach tours are a great way to see sights and attractions without the hassle of making loads of travel arrangements and hotel bookings.
By trolleybus
Trolleybuses are relatively cheap in Ternopil. Travel cards are valid on trolleybuses.
Useful information and maps can be found at: http://detransport.com.ua/
By car
If you are using a satellite navigation, our address details for the main entrance to our site are:
Ternopil Ivan Puluj National Technical University
56, Ruska Street
Ternopil
46001
Ukraine
By taxi
Taxis are very useful if you are carrying lots of luggage, travelling in a small group or if you need to travel very late at night or very early in the morning. Travelling by taxi is relatively cheap and easily available 24 hours a day. If you are out late at night, a taxi may be the safest option. Ternopil's taxis can be hailed in the street or at designated ranks situated in prominent places, including railway and bus stations. You can also telephone a company and book a taxi – tell them where you are, where you want to go and how many people there will be. You will also have to tell the company your name so they know how to identify you. It is recommended that you ask how much a journey is likely to cost before getting in the taxi.
If the green taxi sign at the front is illuminated, the taxi is available for hire. Fares are metered, and there is a minimum charge. Taxis accept cash payment for their services. You can tip taxi drivers as much as you like.
A wide range of cars are used as private hire vehicles. While their fares are generally reasonable, they are not on a meter, so it is advisable to ask how much the trip will cost before setting out. You should get a card with the telephone number of local taxi companies and use it if you need to book a taxi in advance.
By bike
If you're thinking about cycling to the University, we have secure bike racks.
On foot
A five minute walk from the town centre brings you to the main campus. Walking is the best way of travelling around and discovering Ternopil if you are not in a hurry.