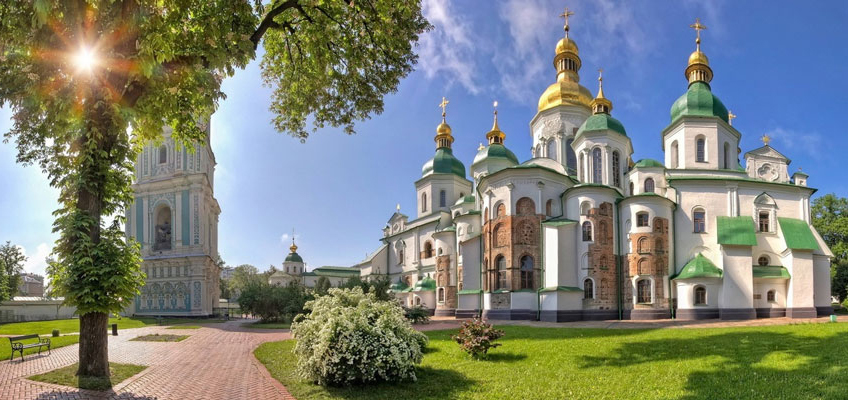 Capital: Kyiv
Official language: Ukrainian
Independence: August 24, 1991
Area: 603 700 km2 (the largest country entirely within Europe)
Climate: moderately continental
Average winter temperature: from -8° to -12° C
Average summer temperature: from +18° to +25° C
Population: 45,410,071
Currency: hryvnia(letter code UAH,digital code 980)
Time zone: GMT+2 (UTC+2)
Emergency services: fire-101; police-102; ambulance-103; gas-104
Internet top-level domain: ua
International phone code: +380
Voltage/frequency: 220V/50Hz
Situated in the centre of Europe, Ukraine is a fascinating and memorable place to visit. Ukraine is also known for its rich cultural heritage, longstanding traditions and unique spirit of its people. The Ukrainians are a warm, friendly and hard-working people who have a reputation for their hospitality and for their skills in singing and music making.
Daily Life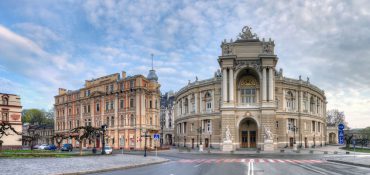 The cities, with their broad sidewalks and extensive greenery, are eminently suited for walking. Ukrainians generally do a considerable amount of walking, either to get around or simply for enjoyment. Parks are plentiful and popular for strolling or picnicking, a common pastime among city dwellers, most of whom live in apartments. The cities also feature numerous kiosks, which sell all manner of wares. Walking through the streets, tourists are greeted by noises and smells.  Markets usually buzz with the sound of women's voices, while the smells of fresh fruit, vegetables and spices fill the air. Approaching the central squares, you can hear the hum of laughter and voices, along with the clinking of glasses from the outdoor cafés and restaurants.
Food
For food, Ukraine offers a wide choice of dishes in all sorts of eating establishments. The many tea-rooms, coffee-shops and restaurants, each with its own brand of charm, are ideal places to relax for a while and take in the atmosphere.
When you are in Ukraine, it's a good idea to try some of these favourites:
Borsch (beet soup) is a family favourite across Ukraine. There are as many recipes as there are babtsi (grannies) who cook it. Ukrainian borsch is a hearty soup of pork and a variety of vegetables in which root vegetables and cabbage predominate, and the soup takes its characteristic deep red colour from beets. Try it with sour cream and garlic pampushky (doughnuts).
Varenyky (also known as pyrohy): dumplings stuffed with mashed potato, sauerkraut, cheese, cabbage, meat, hard-boiled egg or even cherries!
Deruny: potato pancakes often served with sour cream, grated onion or garlic.
Sport
Ukrainians enjoy various sports. Thanks to the mainly mild weather, spectacular mountains, impressive forests, numerous lakes and beautiful beaches, a wide range of outdoor activities are available. You can explore the caves, go skiing in the mountains, backpacking through a forest, horseback riding, scuba diving or even whitewater rafting. There are plenty of team sports, too. In Ukraine, the locals take their football very seriously. Boxing is another popular sport in this part of the world.
Entertainment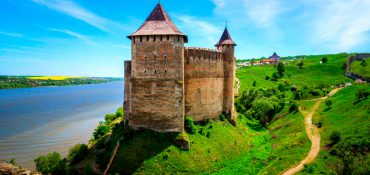 There are lots of things to see and do in Ukraine. One of the things that will impress you is the architecture of the buildings. It's definitely a sightseer's paradise!  Ukraine is well-known for its magnificent golden-domed temples, wooden tserkvas (churches), ancient cathedrals and wondrous castles, fortresses and palaces. Most of Ukraine's major cities have ornate theatres with their own opera or ballet companies. Song-and-dance ensembles have made Ukrainian folk music and dance into an impressive stage art. Though classical music remains popular, contemporary Western-style music has expanded its audience considerably. Ukrainian and imported reality television series and soap operas have developed a dedicated following, and cinemas show the latest blockbuster movies. You can end your day whether by serenading your loved one in a karaoke or by having a delicious meal in one of the many elegant restaurants. If you are lucky enough to be in Ukraine on Independence Day, you can witness the stunning fireworks display.
Ukraine is a welcoming country. Its fascinating sights, great cultural wealth and warm-hearted people make it unique.
Video about Ukraine: