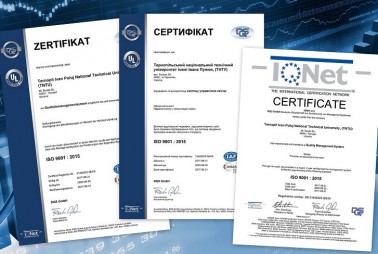 Ternopil Ivan Puluj National Technical University aspires to be an innovative institution of higher education with advanced corporate culture and high performance in the areas of research, education, technology and methodology. Achieving these goals requires effective quality management system and constant capacity building, TNTU has adopted policy aimed at improving the quality of education and research, personnel training, constant and timely upgrade of educational services in response to market needs.
According to the decision of the certification body on August 31, 2017 Ternopil Ivan Puluj National Technical University has received certificates confirming the compliance of the quality management system with the requirements of the international standard ISO 9001: 2015. The first two certificates in Ukrainian and German are issued by the German certification body «DQS-Group», which is one of the three leading certification bodies in the world, testifying to international recognition of the quality of educational activities.
ISO 9001: 2015 certification is an international standard which confirms that an organization or institution has achieved a high degree of quality control. This type of management system certification has become an integral part of every modern university activity.
Another certificate of the international standard IQNet, issued by an international certification network (Bern, Switzerland), joining 37 leading certification bodies in 34 countries. International certificate IQNet allows TNTU to issue an ISO 9001 certificate of any member of the international network without additional audits, which is the confirmation of international recognition of Ternopil Ivan Puluj National Technical University.
ISO 9001: 2015 certification confirms TNTU's priority position in the educational market. We should mention that the effective functioning of the quality management system (QMS), certified by the ISO 9001 certificate, provides some advantages, including improving of university management, increasing of competitiveness, the extension of the list of countries whose citizens will get education in TNTU, participation in international programs and projects with the attraction of grants, additional increase of the university's rating and image, integration into the European educational market.