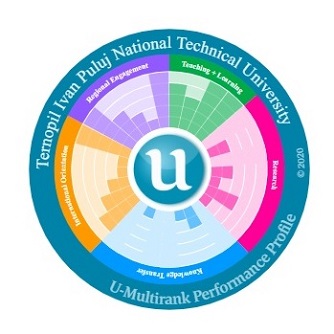 New world universities ranking U-Multirank 2020 has been published, where Ternopil Ivan Puluj National Technical University took part for the second time and occupied high rating positions.
This year the ranking included about 1,800 universities from 92 countries, compared to 1,711 last year. The number of Ukrainian universities increased from 54 to 76, Ternopil Ivan Puluj National Technical University took a high 15th place.
It was possible to improve the positions in this list thanks to the cooperation of the Benchmarking Center and Web Management of TNTU with other departments of the university. In particular, work was carried out to collect and systematize information on educational programs, financial indicators, data on the number of students and research and teaching staff, the results of research and international cooperation. One of the important stages of the ranking process was a large-scale on-line inquiry of students, in which the students anonymously evaluated the cooperation with the university in various fields.
Unlike other systems based on independent expert assessments and levels of citations of university staff, this ranking allows universities to compare their own objective assessments, level of research and teaching, knowledge and technology transfer, internationalization and regional demand. TNTU is among the leaders in the industry rankings of U-Multirank:
Institutional and subject-level information about Ternopil Ivan Puluj National Technical University is available at the project website: bit.ly/2XRwguv