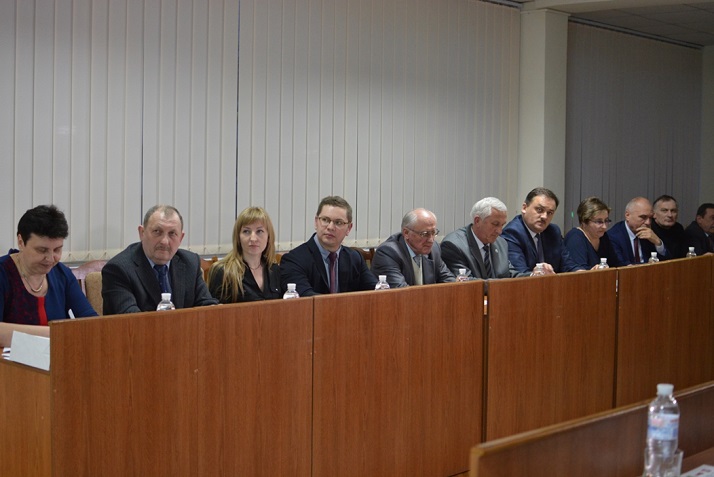 On March 6, 2017 Rector of the University Prof. Petro Yasniy took part in the meeting of International Organizing Committee on the preparation of Ukrainian-Polish Days of Education, Science and Innovation (the Forum of Rectors of Higher Technical Institutions of Ukraine and Poland). The meeting was held on March 6 at the Ivano-Frankivsk National Technical University of Oil and Gas.
Representatives of Polish and Ukrainian educational community joined the work of the organizing committee.
Ukraine was represented by: prof. Yu. Bobalo (Rector of the National University «Lviv Polytechnic»), Academician of the National Academy of Sciences of Ukraine Ye. Kryzhanivskyi (Rector of IFNTUNG), Co-chairman of the Organizing Committee, Corresponding Member of the National Academy of Sciences S. Sydorenko (Vice-rector on scientific and pedagogical work, responsible for international relations of Igor Sikorsky Kyiv Polytechnic Institute ), Secretary of the International Organizing Committee A. Kovtun, Deputy Head of the Ivano-Frankivsk Regional State Administration I. Pasichnyak.
Polish delegation included: V. Sivinsky (President of the Educational Foundation «Perspektywy» and Vice-President of the IREG Observatory on Academic Ranking and Excellence), Prof. T. Lodigovsky (Rector of Poznan Polytechnic University), Rector of Opole Polytechnic University Prof. M. Tukendorff, director of the Office of the Rector V. Nida and specialist in International Cooperation Ya. Polska (Opole Polytechnic University).
The Organizing Committee discussed the organization of the Forum and extension of cooperation between higher technical educational institutions of Poland and Ukraine.
During the meeting Rector Prof. Petro Yasniy discussed the extension of scientific and educational cooperation of TNTU with Rectors of Poznan Polytechnic University and Opole Polytechnic University.