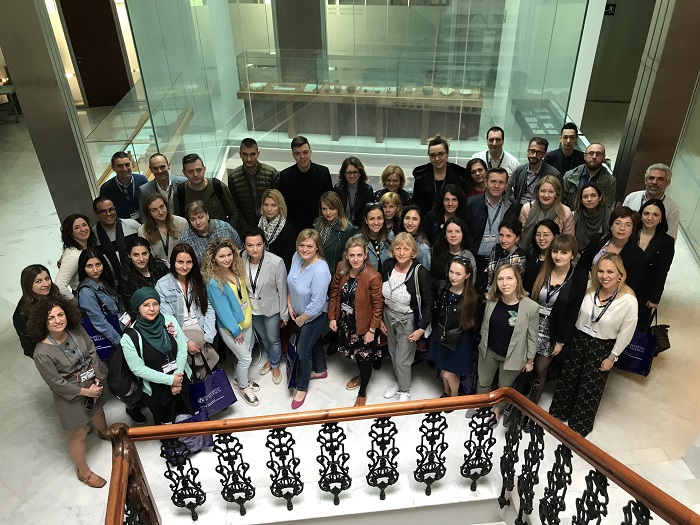 On March 4-8, the partner University (Universidad de Valencia) generously hosted the 2nd International Credit Mobility Week. Active cooperation between our Universities has been continuing for 4 years within the framework of international projects KA102 and K107. Two students of TNTU are participants of the international mobility project KA107 this 2018/2019 study year. Under this program, they have the opportunity to study at the University of Valencia at the Faculty of Economics during the semester.
It should be noted that more than 40 representatives of higher education institutions of Ukraine, Israel, South Korea, Morocco, Bosnia and Herzegovina, Serbia, Kazakhstan, Iran, Russia and Belarus participated in the events within the framework of the credit mobility week. Ukraine was represented by teachers and non-academic staff of international cooperation departments of Ternopil Ivan Puluj National Technical University, Ivan Franko National University of Lviv, Yuriy Fedkovych Chernivtsi National University and Taras Shevchenko National University of Kiev.
Representatives of TNTU became active participants in series of planned workshops on KA107 Erasmus + International Credit Mobility: Internationalizing Higher Education Institutions beyond the European borders. The mobility week program consisted of host and partner universities presentations, meetings with the administration, the head and representatives of the international office, participation in roundtables and trainings, discussing specific issues of cooperation within the framework of international exchange programs.
Participants of the credit mobility week (head of the Department of Food Technology Equipment, professor Vitenko Tetiana, translators of the Department of International Cooperation Ivashkiv Dana and Zubkova Victoriia, and professor of the Department of Economics and Finance Marynenko Nataliia) also visited study buildings, faculties, research centers, library and Scientific park of one of the largest educational institution in Valencia. International Credit Mobility Week allowed them to get acquainted with the best practices and achievements of the partner university in international activities, to discuss the aspects of participation of students and staff of higher educational institutions in international projects, expand business contacts and outline plans for further cooperation.