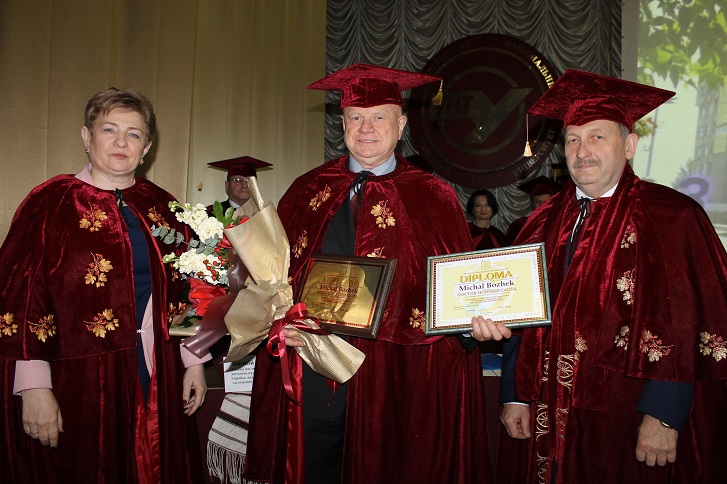 On June 2, 2017 Ternopil Ivan Puluj National Technical University celebrated Academy Ceremony on the occasion of 57th University Anniversary, held at Sport and Art Complex «Politechnik».
On that day a great friendly family of polytechnics and university friends traditionally gathered together at the academy ceremony to remember the moments of joy and victory, which took place this year in the walls of the institution, to listen about University life these days, to witness the awards of special guests, best teachers, academic staff and students.
The Celebration started with the welcome speech of Rector Dr.Sci, Prof. Petro Yasniy.
The University has got personal congratulations with 57th Anniversary from Head of Department of Education and Science of Ternopil Regional State Administration Olga Homa, executive officer of the Ternopil Regional Council Ivan Babiychuk and Deputy Mayor of the executive board Leonid Bytsyura. The honored guests presented teachers and students of TNTU awards of Ternopil Regional Sate Administration, the Department of Education and Science and Ternopil City Council.
The special event of the celebration became awarding of Doctor Honoris Causa Diploma of the Ternopil Ivan Puluj National Technical University to the President of «Ustronianka Sp. z o.o.» Company Michal Bozhek and to the Director of Karpenko Physico-Mechanical Institute of the NAS of Ukraine, the Academician of the NAS of Ukraine, Dr.Sci., Prof. Zinoviy Nazarchuk. The honored guests gave the Inauguration speeches of Doctor Honoris Causa of TNTU.
Another special initiative of the day was opening of modern computer class of the University. This gift was prepared for TNTU by company «Ustronyanka», the main partner of the University in international student's practice and one of the largest leading manufacturers of soft drinks at the Polish market.
In conclusion of celebration event the participants visited the evening of European classical and popular music in the Ternopil Regional Philharmonic Hall.