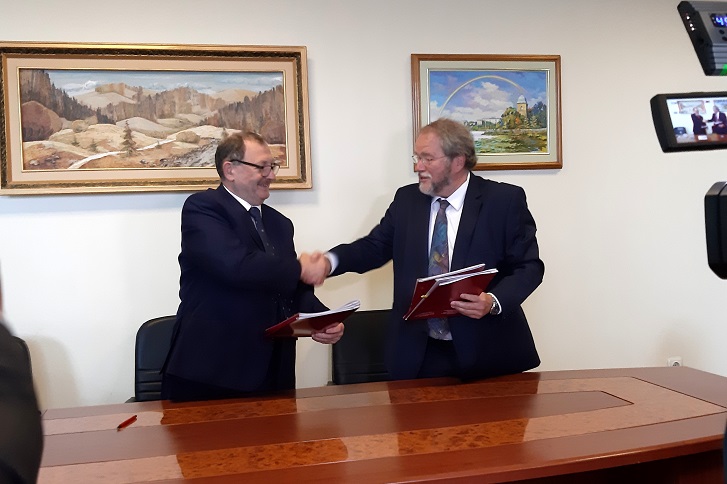 TNTU welcomes guests from Schmalkalden (Germany)
The University takes warm wishes with the 59th anniversary of the establishment from foreign partners.
On May 21, representatives of the University of Applied Sciences Schmalkalden (Schmalkalden, Germany) Rector of the University Prof. Dr. Elmar Heinemann and the Head of the International Office Dr. Marcus Hornung visited TNTU. Close partnership that has been lasting for more than seven years has its further development and brings educational results. From now on, students from three faculties of our university, Faculty of Computer Information Systems and Software Engineering, Faculty of Applied Information Technologies and Electrical Engineering, Faculty of Engineering of Machines,Structures and Technologies will have the opportunity to study at the German. The meeting of the Rectors Prof. Petro Yasniy and Prof. Elmar Heineman ended with the ceremonial signing of the agreements on joint programs of double diplomas of Bachelor's and Master's degrees.
Guests also had the opportunity to visit the Ivan Puluj Museum, to get acquainted with the exhibition of creative works of students and employees of the University and to enjoy the incredible beauty of our city during an interesting excursion.
We hope that motivated and persistent representatives of the student community of our university will join in the near future students who are currently studying at the University of Applied Sciences Schmalkalden. Therefore, all those who wish to take part in the double diploma program with the University of Applied Sciences in Schmalkalden (Germany) please contact the Department of International Cooperation at the room 30, building  #2.