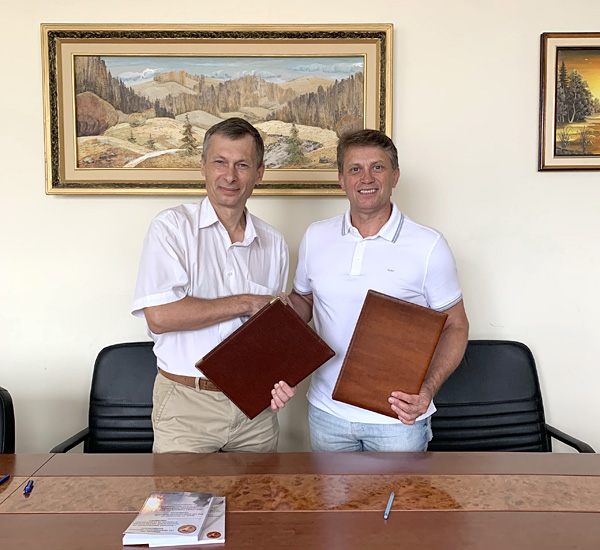 For the second time this year, the university welcomed the Honorary Consul of Ukraine in Detroit, Vasyl Perets. Rector Mykola Mytnyk personally greeted the longstanding head of the TNTU local distance learning center affiliated with the Ukrainian Cultural Center, who has been appointed to a diplomatic position.
Together with the Vice-Rector Oleg Lyashuk, the Assistant Rector Mykhailo Blavitsky, and the Director of the International Education Center Bohdan Kovalyuk, they discussed the ongoing tasks of the local distance learning center and the prospects of further collaboration between the university and the Ukrainian diaspora. During the meeting, Vasyl Perets, as the President of the Ukrainian Congress Committee of America and the regent of the Ivan Kotliarevsky Choir at the UGC Church, shared information about the support provided by the Ukrainian community to the Armed Forces of Ukraine, expressing gratitude to all Ukrainian soldiers for their daily heroism and sacrifice. As a prospective area of cooperation in the near future, they identified expanding the circle of partners among American universities and involving scholars and public figures from diaspora structures in organizing and conducting international scientific and practical events at the university, focused on studying the forms and methods of modern hybrid warfare. In particular, attention was focused on the annual conference "Military Conflicts and Technogenic Disasters: Historical and Psychological Consequences."
As a result of this substantive meeting, concrete plans for further cooperation between the university and the Ukrainian Cultural Center in Warren were outlined, the expansion of the work of the local distance learning center of TNTU was discussed, and the corresponding documents were signed, authorizing Mr. Vasyl Perets to represent the interests of the university in North America.